ੴ ਵਾਹਿਗੁਰੂ ਜੀ ਕੀ ਫਤਹ ॥
ੴ वाहिगुरू जी की फतह ॥
Ek Ong Kaar Waheguru Ji Ki Fateh
There is one God. All Victory belongs to God.
ਸ੍ਰੀ ਭਗਉਤੀ ਜੀ ਸਹਾਇ ॥
स्री भगउती जी सहाइ ॥
Siri Bhagauti Ji Sahai
May the dynamic power of God help us.
ਵਾਰ ਸ੍ਰੀ ਭਗਉਤੀ ਜੀ ਕੀ ॥ ਪਾਤਸਾਹੀ ੧੦ ॥
वार स्री भगउती जी की ॥ पातसाही १० ॥
Var Siri Bhagauti Ji Ki Paatshahi Dasveen
The Vaar (poetic verse) of Sri Bhagauti, composed by the Tenth King.
ਪ੍ਰਿਥਮ ਭਗੌਤੀ ਸਿਮਰਿ ਕੈ ਗੁਰੁ ਨਾਨਕ ਲਈਂ ਧਿਆਇ ॥
प्रिथम भगौती सिमरि कै गुरु नानक लईं धिआइ ॥
Pritham Bhagauti Simmar Kai Gur Nanak Laeen Dhiae
Having first involved the dynamic power of God, call on Guru Nanak.
ਫਿਰ ਅੰਗਦ ਗੁਰ ਤੇ ਅਮਰਦਾਸੁ ਰਾਮਦਾਸੈ ਹੋਈਂ ਸਹਾਇ ॥
फिर अंगद गुर ते अमरदासु रामदासै होईं सहाइ ॥
Phir Angad Gur Te Amardas Ramdasai Hoieen Sahai
Then on Angad Guru, Amar Das and Ram Das, may they ever protect us.
ਅਰਜਨ ਹਰਿਗੋਬਿੰਦ ਨੋ ਸਿਮਰੌ ਸ੍ਰੀ ਹਰਿਰਾਇ ॥
अरजन हरिगोबिंद नो सिमरौ स्री हरिराइ ॥
Arjan Hargobind Non Simrau Siri Har Rai
Then call on Arjan, and Hargobind, holy Har Rai.
ਸ੍ਰੀ ਹਰਿ ਕਿਸ਼ਨ ਧਿਆਈਐ ਜਿਸ ਡਿਠੇ ਸਭਿ ਦੁਖਿ ਜਾਇ ॥
स्री हरि किशन धिआईऐ जिस डिठे सभि दुखि जाइ ॥
Siri Harkrishan Dhiaeeai jis Dithe Sabh Dukh Jaie
Remember Holy Har Krishan, whose sight dispels all sorrows.
ਤੇਗ ਬਹਾਦਰ ਸਿਮਰਿਐ ਘਰ ਨਉ ਨਿਧਿ ਆਵੈ ਧਾਇ ॥ ਸਭ ਥਾਈਂ ਹੋਇ ਸਹਾਇ ॥੧॥
तेग बहादर सिमरिऐ घर नउ निधि आवै धाइ ॥ सभ थाईं होइ सहाइ ॥१॥
Teg Bahadar Simriye Ghar Nau Nidh Awai Dhaai. Sabh Thaaeen Hoi Sahai
Then remember Teg Bahadur by whose remembrance the nine treasures come hurrying to ones home. Be ever with us O Masters.
ਦਸਵੇਂ ਪਾਤਸ਼ਾਹ ਸ੍ਰੀ ਗੁਰੂ ਗੋਬਿੰਦ ਸਿੰਘ ਸਾਹਿਬ ਜੀ ਸਭ ਥਾਈਂ ਹੋਇ ਸਹਾਇ ॥
दसवां पातशाह स्री गुरू गोबिंद सिंघ साहिब जी सभ थाईं होइ सहाइ ॥
Daswan Patshah Siri Guru Gobind Singh Sahib Ji, Sabh Thaaeen Hoai Sahai
May the tenth king, Guru Gobind Singh be ever on our side.
ਦਸਾਂ ਪਾਤਸ਼ਾਹੀਆਂ ਦੀ ਜੋਤ ਸ੍ਰੀ ਗੁਰੂ ਗ੍ਰੰਥ ਸਾਹਿਬ ਜੀ ਦੇ ਪਾਠ ਦੀਦਾਰ ਦਾ ਧਿਆਨ ਧਰ ਕੇ ਬੋਲੋ ਜੀ ਵਾਹਿਗੁਰੂ ॥
दसां पातशाहीआं दी जोत स्री गुरू ग्रंथ साहिब जी दे पाठ दीदार दा धिआन धर के बोलो जी वाहिगुरू ॥
Dasan Patshahian Di Jot Siri Guru Granth Sahib Ji De Path Didar Da Dheyan Dhar Ke Bolo Waheguru!
Let us now turn our thoughts to the teachings of Guru Granth Sahib, the visible embodiment of the ten Gurus and utter, O Khalsa Ji, Vaheguru! (glory be to God).
ਪੰਜਾ ਪਿਆਰਿਆਂ, ਚੌਹਾਂ ਸਾਹਿਬਜ਼ਾਦਿਆਂ, ਚਾਲ੍ਹੀਆਂ ਮੁਕਤਿਆਂ, ਹਠੀਆਂ, ਜਪੀਆਂ, ਤਪੀਆਂ, ਜਿਨ੍ਹਾਂ ਨਾਮ ਜੱਪਿਆ, ਵੰਡ ਛਕਿਆ, ਦੇਗ ਚਲਾਈ, ਤੇਗ ਵਾਹੀ, ਦੇਖ ਕੇ ਅਣਡਿੱਠ ਕੀਤਾ, ਤਿਨ੍ਹਾਂ ਪਿਆਰਿਆਂ, ਸਚਿਆਰਿਆਂ ਦੀ ਕਮਾਈ ਦਾ ਧਿਆਨ ਧਰ ਕੇ, ਖਾਲਸਾ ਜੀ, ਬੋਲੋ ਜੀ ਵਾਹਿਗੁਰੂ ॥
पंजा पिआरिआं, चौहां साहिबज़ादिआं, चाल्हीआं मुकतिआं, हठीआं, जपीआं, तपीआं, जिन्हां नाम जपिआ, वंड छकिआ, देग चलाई, तेग वाही, देख के अणडिठ कीता, तिन्हां पिआरिआं, सचिआरिआं दी कमाई दा धिआन धर के, खालसा जी, बोलो जी वाहिगुरू ॥
Panj Piarian, Chohan Sahibzadian, Chahlian Muktian, Hathian, Jappian, Tapian, Jinhan Nam Jappia Wand Chhakia Deg Chalai Teg Wahi Dekh Ke Undith Keetaa Tinnha Piarian Sachiarian Di Kamaaee Da Dhiaan Dhar Ke Khalsa Ji Bolo Ji Waheguru!
The five Beloved Ones, the four Sahibzaade (sons of the tenth Master), the forty emancipated ones, the martyrs, the true disciples, the contemplators of God, and those who remained steadfast on the path of Dharma, remember their glorious deeds and utter O Khalsa Ji, Vaheguru!
ਜਿਨ੍ਹਾਂ ਸਿੰਘਾਂ ਸਿੰਘਣੀਆਂ ਨੇ ਧਰਮ ਹੇਤ ਸੀਸ ਦਿਤੇ, ਬੰਦ ਬੰਦ ਕਟਾਏ, ਖੋਪਰੀਆਂ ਲੁਹਾਈਆਂ, ਚਰਖੜੀਆਂ ਤੇ ਚੜ੍ਹੇ, ਆਰਿਆਂ ਨਾਲ ਚਿਰਾਏ ਗਏ, ਗੁਰਦੁਆਰਿਆਂ ਦੀ ਸੇਵਾ ਲਈ ਕੁਰਬਾਨੀਆਂ ਕੀਤੀਆਂ, ਧਰਮ ਨਹੀਂ ਹਾਰਿਆ, ਸਿੱਖੀ ਕੇਸਾਂ ਸੁਆਸਾਂ ਨਾਲ ਨਿਬਾਹੀ, ਤਿਨ੍ਹਾਂ ਦੀ ਕਮਾਈ ਦਾ ਧਿਆਨ ਧਰ ਕੇ, ਖ਼ਾਲਸਾ ਜੀ, ਬੋਲੋ ਜੀ ਵਾਹਿਗੁਰੂ ॥
जिन्हां सिंघां सिंघणीआं ने धरम हेत सीस दिते, बंद बंद कटाए, खोपरीआं लुहाईआं, चरखड़ीआं ते चड़्हे, आरिआं नाल चिराए गए, गुरदुआरिआं दी सेवा लई कुरबानीआं कीतीआं, धरम नहीं हारिआ, सिखी केसां सुआसां नाल निबाही, तिन्हां दी कमाई दा धिआन धर के, ख़ालसा जी, बोलो जी वाहिगुरू ॥
Jinahan Singhan Singhanian Ne Dharam Hait Sees Ditte, Band Band Katae, Khoprian Luhaian, Charkhian Te Charhe, Aarian Nal Chiraae Gae, Gurdwarian Di Seva Laee Kurbanian Kithian, Dharam Naheen Hariaa, Sikhi Kesan Suasan Naal Nibhahee, Tinnhaan Dee Kamaaee Da Dhiaan Dhar Ke Khalsa Ji! Bolo Ji Waheguru!
Those who dwelled on God's Name, shared their honest earnings with others, wielded sword in battlefield, distributed food in companionship, offered their heads at the altar of Dharma, were cut up limb by limb, skinned alive, boiled or sawn alive, but did not utter a sigh nor faltered in their faith, kept the sanctity of their hair until their last breath, sacrificed their lives for the sanctity of Gurdwaras; remember their glorious deeds and utter O Khalsa Ji, Vaheguru!.
ਪੰਜਾਂ ਤਖ਼ਤਾਂ, ਸਰਬੱਤ ਗੁਰਦੁਆਰਿਆਂ ਦਾ ਧਿਆਨ ਧਰ ਕੇ ਬੋਲੋ ਜੀ ਵਾਹਿਗੁਰੂ ॥
पंजां तख़तां, सरबत गुरदुआरिआं दा धिआन धर के बोलो जी वाहिगुरू ॥
Panjan Takhtan Sarbatt Gurduaarian Da Dhiaan Dhar Ke Bolo Ji Waheguru!
Turn your thoughts to the five Takhats (seats of Sikh authority) and all the Gurdwaras and utter O Khalsa, Vaheguru!
ਪ੍ਰਿਥਮੇ ਸਰਬੱਤ ਖਾਲਸਾ ਜੀ ਕੀ ਅਰਦਾਸ ਹੈ ਜੀ, ਸਰਬੱਤ ਖਾਲਸਾ ਜੀ ਕੋ ਵਾਹਿਗੁਰੂ, ਵਾਹਿਗੁਰੂ, ਵਾਹਿਗੁਰੂ ਚਿਤ ਆਵੇ, ਚਿਤ ਆਵਨ ਕਾ ਸਦਕਾ ਸਰਬ ਸੁਖ ਹੋਵੇ ॥ ਜਹਾਂ ਜਹਾਂ ਖਾਲਸਾ ਜੀ ਸਾਹਿਬ, ਤਹਾਂ ਤਹਾਂ ਰਛਿਆ ਰਿਆਇਤ, ਦੇਗ ਤੇਗ ਫਤਹ, ਬਿਰਦ ਕੀ ਪੈਜ, ਪੰਥ ਕੀ ਜੀਤ, ਸ੍ਰੀ ਸਾਹਿਬ ਜੀ ਸਹਾਇ, ਖਾਲਸੇ ਜੀ ਕੇ ਬੋਲ ਬਾਲੇ, ਬੋਲੋ ਜੀ ਵਾਹਿਗੁਰੂ ॥
प्रिथमे सरबत खालसा जी की अरदास है जी, सरबत खालसा जी को वाहिगुरू, वाहिगुरू, वाहिगुरू चित आवे, चित आवन का सदका सरब सुख होवे ॥ जहां जहां खालसा जी साहिब, तहां तहां रछिआ रिआइत, देग तेग फतह, बिरद की पैज, पंथ की जीत, स्री साहिब जी सहाइ, खालसे जी के बोल बाले, बोलो जी वाहिगुरू ॥
Prithmen Sarbatt Khalsa Ji Ki Ardaas Hai Ji, Sarbatt Khalsa Ji Ko Waheguru Waheguru Waheguru Chitt Aawai, Chitt Aawan Kaa Sadkaa Sarab Sukh Howai. Jahaan Jahaan Khalsa Ji Sahib Tahaan Tahaan Rachhiaa Riaayat, Deg Teg Fateh, Birdd Kee Paij, Panth Ki Jeet, Siri Saheb Ji Sahaae, Khalsa Ji Ke Bol Baale, Bolo Ji Waheguru!
First, there is supplication for all the Khalsa Panth. May the Lord bestow upon His Khalsa the gift of His remembrance, Vaheguru, Vaheguru,Vaheguru, and may the merit of this remembrance be happiness of all kinds. O God, wherever are the members of Khalsa, extend Your protection and mercy on them; let the Panth be ever victorious, let the sword be ever our protector. May the order of the Khalsa achieve ever-expanding progress and supremacy. Utter O Khalsa, Vaheguru!.
ਸਿੱਖਾਂ ਨੂੰ ਸਿੱਖੀ ਦਾਨ, ਕੇਸ ਦਾਨ, ਰਹਿਤ ਦਾਨ, ਬਿਬੇਕ ਦਾਨ, ਵਿਸਾਹ ਦਾਨ, ਭਰੋਸਾ ਦਾਨ, ਦਾਨਾਂ ਸਿਰ ਦਾਨ ਨਾਮ ਦਾਨ, ਸ੍ਰੀ ਅੰਮ੍ਰਿਤਸਰ ਜੀ ਦੇ ਇਸ਼ਨਾਨ, ਚੌਂਕੀਆਂ, ਝੰਡੇ, ਬੁੰਗੇ ਜੁਗੋ ਜੁਗ ਅਟੱਲ, ਧਰਮ ਕਾ ਜੈਕਾਰ, ਬੋਲੋ ਜੀ ਵਾਹਿਗੁਰੂ ॥
सिखां नूं सिखी दान, केस दान, रहित दान, बिबेक दान, विसाह दान, भरोसा दान, दानां सिर दान नाम दान, स्री अम्रितसर जी दे इशनान, चौंकीआं, झंडे, बुंगे जुगो जुग अटल, धरम का जैकार, बोलो जी वाहिगुरू ॥
Sikhaan Noon Sikhi Daan, Kes Daan Rehitt Daan, Bibaik Daan, Visah Daan, Bharosa Daan, Danaan Sir Daan Naam Daan, Siri Amritsar Ji De Ishnaan, Chowkian, Jhande, Bunge, Jugo Jug Attal Dharam Ka Jaikaar Bolo Ji Waheguru!
May God grant to the Sikhs, the gift of faith, the gift of uncut hair, the Keshas, the gift of discipline, the gift of spiritual discrimination, the gift of mutual trust, the gift of self confidence and the supreme gift of all the gifts, the communion with Vaheguru, the Name, and the gift of bathing in Amritsar, May the administrative centres, banners, the cantonments of Khalsa ever remain inviolate. May the cause of truth and justice prevail everywhere at all times, utter O Khalsa, Vaheguru!.
ਸਿੱਖਾਂ ਦਾ ਮਨ ਨੀਵਾਂ ਮੱਤ ਉੱਚੀ, ਮੱਤ ਦਾ ਰਾਖਾ ਅਕਾਲ ਪੁਰਖ ਵਾਹਿਗੁਰੂ ॥
सिखां दा मन नीवां मत उची, मत दा राखा अकाल पुरख वाहिगुरू ॥
Sikhan Daa Man Neevan, Matt Uchee. Matt Daa Rakha Aap Waheguru!
May the minds of Sikhs remain humble, and their wisdom exalted. Vaheguru! you are the protector of wisdom.
ਹੇ ਅਕਾਲ ਪੁਰਖ ਆਪਣੇ ਪੰਥ ਦੇ ਸਦਾ ਸਹਾਈ ਦਾਤਾਰ ਜੀਓ ॥ ਸ੍ਰੀ ਨਨਕਾਣਾ ਸਾਹਿਬ ਤੇ ਹੋਰ ਗੁਰਦੁਆਰਿਆਂ ਗੁਰਧਾਮਾਂ ਦੇ ਜਿਨ੍ਹਾਂ ਤੋਂ ਪੰਥ ਨੂੰ ਵਿਛੋੜਿਆ ਗਿਆ ਹੈ, ਖੁਲ੍ਹੇ ਦਰਸ਼ਨ ਦੀਦਾਰ ਤੇ ਸੇਵਾ ਸੰਭਾਲ ਦਾ ਦਾਨ, ਖ਼ਾਲਸਾ ਜੀ ਨੂੰ ਬਖ਼ਸ਼ੋ ॥
हे अकाल पुरख दीन दिआल, करन कारन, पतित पावन क्रपा निधान जी, आपणे पंथ दे सदा सहाई दातार जीओ ॥ स्री ननकाणा साहिब ते होर गुरदुआरिआं गुरधामां दे जिन्हां तों पंथ नूं विछोड़िआ गिआ है, खुल्हे दरशन दीदार ते सेवा स्मभाल दा दान, ख़ालसा जी नूं बख़शो ॥
He Akaal Purkh Aapne Panth De Sadaa Sahaaee Dataar Jeeo, Siri Nankaana Sahib Te Hor Gurduaarian Gurdhaman De Jinhan Ton Panth Noon Vichhoria Giaa Hai, Khulhe Darshan Deedaar Te Sewaa Sambhaal Daa Daan Khalsa Ji Noon Bakhsho
Almighty Lord! Our helper and protector ever, restore to us the right and privilege of unhindered and free service and access to Nankana Sahib and other centers of Sikh religion from which we have been separated.
ਹੇ ਨਿਮਾਣਿਆ ਦੇ ਮਾਣ ਨਿਤਾਣਿਆ ਦੇ ਤਾਣ, ਨਿਓਟਿਆਂ ਦੀ ਓਟ, ਸਚੇ ਪਿਤਾ, ਵਾਹਿਗੁਰੂ, ਆਪ ਦੇ ਹਜ਼ੂਰ…..ਦੀ ਅਰਦਾਸ ਹੈ ਜੀ ॥
हे निमाणिआ दे माण निताणिआ दे ताण, निओटिआं दी ओट, सचे पिता, वाहिगुरू, आप दे हज़ूर…..दी अरदास है जी ॥
He Nimanian De Maan, Nitaniaan De Taan, Niotiaan Di Ot, Sachhe Pittaa Waheguru, Aap De Hazoor ……. Dee Ardaas Hai Jee
God, the Helper of the helpless, the Strength of the weak, the Supporter of the fallen, the true father of all, (here the specific purpose and the occasion for the supplication is stated by the person leading in the supplication and the blessings and aid of God are beseeched)
ਅਖਰ ਦਾ ਵਾਧਾ ਘਾਟਾ ਭੁਲ ਚੁਕ ਮਾਫ਼ ਕਰਨੀ ਜੀ ॥ ਸਰਬੱਤ ਦੇ ਕਾਰਜ ਰਾਸ ਕਰਨੇ ॥ ਸੇਈ ਿਪਆਰੇ ਮੇਲ , ਿਜਨਾ ਮਿਲਆਂ ਤੇਰਾ ਨਾਮ ਿਚੱਤ ਆਵੇ ॥
अखर दा वाधा घाटा भुल चुक माफ़ करनी जी ॥ सरबत दे कारज रास करने ॥ सेई पिआरे मेल, जिन्हां मिलिआं तेरा नाम चित आवे ॥
Akhar Wadhaa Ghaata Bhul Chukk Maaf Karnee. Sarbatt De Kaaraj Raas Karne. Saiee Piaare Mail Jinhaan Miliaan Tera Naam Chitt Aawe.
Forgive us O Lord, all our faults, extend Your helping hand to everyone. Grant us the company of those who may help keep Your Name fresh in our hearts.
ਨਾਨਕ ਨਾਮ ਚੜ੍ਹਦੀ ਕਲਾ ॥ ਤੇਰੇ ਭਾਣੇ ਸਰਬੱਤ ਦਾ ਭਲਾ ॥
नानक नाम चड़्हदी कला ॥ तेरे भाणे सरबत दा भला ॥
Nanak Naam Charhdi Kalaa, Tere Bhane Sarbatt Daa Bhalaa.
Through Satguru Nanak, may Your Name be exalted and may all of mankind prosper according to your Will
ਵਾਹਿਗੁਰੂ ਜੀ ਕਾ ਖਾਲਸਾ ॥ ਵਾਹਿਗੁਰੂ ਜੀ ਕੀ ਫ਼ਤਹਿ ॥
वाहिगुरू जी का खालसा ॥ वाहिगुरू जी की फ़तहि ॥
Waheguru Ji Ka Khalsa, Waheguru Ji Ki Fateh.
The Khalsa belongs to God and to Him belongs the victory,
Nit-Nem (literally "Daily Naam") is a collaboration of different banis that were designated to be read by Sikhs every day at different times of the day.Sikhs read nitnems at Gurdwaras. The Nit-Nem bani's usually include the Panj bania (5 bani's below) which are read daily by baptized Sikhs in the morning between 3:00 am and 6:00 am (this period is considered as Amrit Vela or the Ambrosial Hours) and Rehras Sahib in the evening 6pm and Kirtan Sohila at night 9pm
---
Bani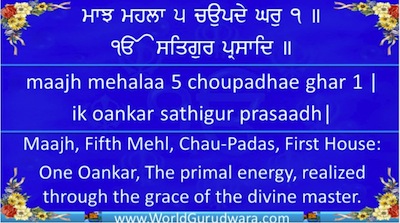 Shabad Hazare
Guru Gobind Singh ji describes his philosophy and inherent beliefs of Dharam and its perception. Speaking against mindless rituals, and beliefs in many Gods (as opposed to belief in the One), the ballads narrate the greatness of the Almighty.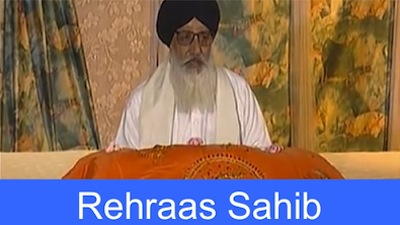 Rehras Sahib
Rehraas Sahib is collection of hymns of five different Gurus. The Rehras as recorded in the Guru Granth Sahib contains hymns of only Guru Nanakji, Guru Amardas ji, Guru Ramdas ji and Guru Arjan Dev ji. The compositions of Guru Gobind Singh ji were added in Rehras Sahib.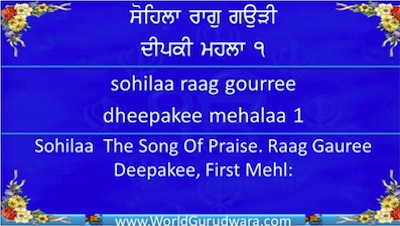 Kirtan Sohila
Three Gurus — Guru Nanak, Guru Ram Das and Guru Arjan – contributed five shabads on the pain of separation and celebrating the bliss of union. The first three Shabads were uttered by Guru Nanak, the fourth by Guru Ram Das and the fifth by Guru Arjan Dev. This is the night prayer said by all Sikhs before sleeping.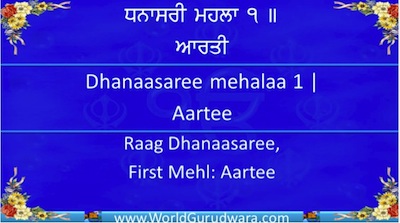 Aarti
This is a compiled Bani from Guru Granth Sahib Ji and Dasam Granth. Various parts are composed by Guru Nanak Dev Ji, Bhagat Kabir ji, Bhagat RaviDass Ji and Guru Gobind Singh Ji.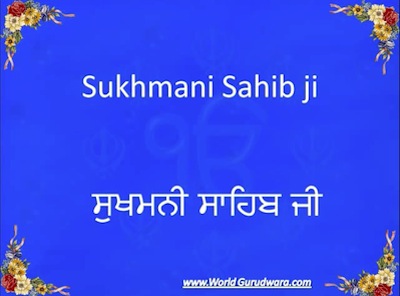 Sukhmani Sahib
Sukhmani literally means Peace in your mind. this Bani is believed to bring peace to one's mind and compoundly peace to the world. This set of 192 hymns were compiled by the fifth Sikh Guru, Guru Arjan Dev Ji. This is divided into 24 sections in the Sri Guru Granth Sahib ji on page 262. Each section, which is called an Ashtpadi(asht means 8), consists of 8 hymns per Ashtpadi.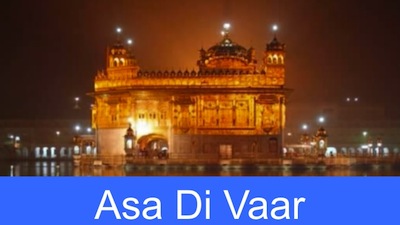 Asa Di Var
It is a collection of 24 pauris or stanzas by Guru Nanak Dev ji on page 462-475 in Sri Guru Granth Sahib ji. Guru Arjan Dev ji also added a few Sloks of Guru Angad Dev ji. These Sloks are tied together in a way that they relate to the same theme as highlighted in the pauri. Asa Di Var also contains a few shabads recited by Guru Ram Das ji.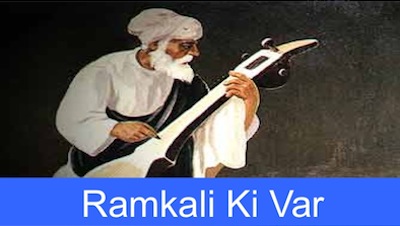 Ramkali Ki Vaar
Ramkali Ki Var, also known as Tikke di Var, is the joint composition of the Balvand and Satta. The Var comprises of eight pauns or stanzas, of unequal length, varying from seven to twenty-one lines.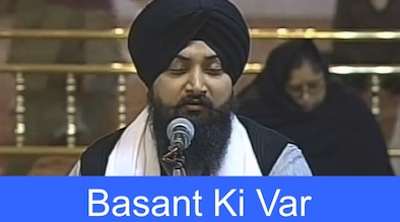 Basant Ki Var
Basant Ki Var, by Guru Arjan Dev, is the shortest of the twentytwo vars. Vars are heroic ballads included in the Guru Granth Sahib. Basant, is the Punjabi word for spring from which the musical measure the Var derives its title. Like Malhar (the raga of the rainy season) the Basant Ki Var is an ancient seasonal raga – the raga of springtime.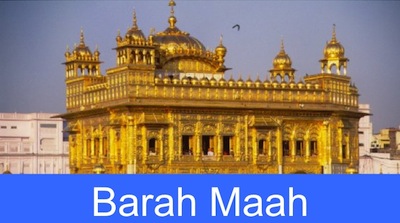 Barah Maah Maajh
It is a form of folk poetry in which the emotions and yearnings of the human heart are expressed in terms of the changing moods of Nature over the twelve months of the year. Guru Nanak Dev ji's Barah Maha is the oldest composition in this genre transforming into spirituality. This is followed by Guru Arjan's Barah Maha.
Dukh Bhanjani Sahib
It begins with the shabad "Dukh bhanjan tera naam meaning "The Destroyer of Suffering is Thy Name". It is a compilation of scripture which includes many shabads written by fifth Guru Arjun Dev ji during the illness and healing of his young son sixth Guru Hargobind ji.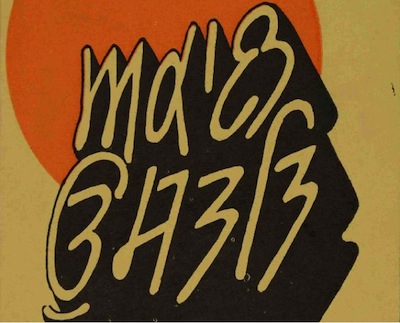 Akal Ustat
It is the second Bani in the Dasam Granth. This text spans from page 33 to page 94. It is composed of 271 verses, and is largely devotional in nature. 'Akal' translates to 'Immortal' and 'Ustat' translates to 'praise of'. The text describes the many forms of the Almighty in nature, and how mankind perceives this great entity.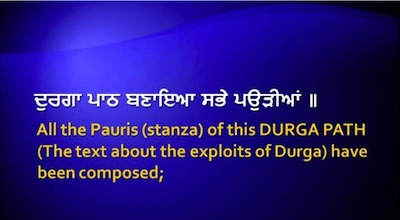 Chandi Ki Var
Chandi di Var also known as Var Sri Bhagauti Ji is a composition included in the 5th chapter of Dasam Granth. It is based on an episode from the Sanskrit work Markandeya Purana, and describes the conflict between the Gods and the Demons. The first part of the Var is known as the "Ardas", the opening Section of Sikh prayer which invokes the names of the Gurus.