ਚੌਪਈ ॥
चौपई ॥
chaapee |
Quatrain
ਹਮਰੀ ਕਰੋ ਹਾਥ ਦੈ ਰੱਛਾ ॥ ਪੂਰਨ ਹੋਇ ਚਿੱਤ ਕੀ ਇੱਛਾ ॥
हमरी करो हाथ दै ्रछा ॥ पूरन होइ चि्त की इछा ॥
hamaree karo haath dhai raashaa | pooran hoe chth kee eshiaa |
O God! give me your hand and protect me, so that the desire of my mind may be fulfilled.
ਤਵ ਚਰਨਨ ਮਨ ਰਹੈ ਹਮਾਰਾ ॥ ਅਪਨਾ ਜਾਨ ਕਰੋ ਪ੍ਰਤਿਪਾਰਾ ॥੩੭੭॥
तव चरनन मन रहै हमारा ॥ अपना जान करो प्रतिपारा ॥३७७॥
thav charanan man rehai hamaaraa | apanaa jaan karo prathipaaraa |1| 377|
May my mind be glued to Your feet! Considering me Your very own, cherish me.(1)(377)
ਹਮਰੇ ਦੁਸ਼ਟ ਸਭੈ ਤੁਮ ਘਾਵਹੁ ॥ ਆਪੁ ਹਾਥ ਦੈ ਮੋਹਿ ਬਚਾਵਹੁ ॥
हमरे दुशट सभै तुम घावहु ॥ आपु हाथ दै मोहि बचावहु ॥
hamarae dhusatt sabhai thum ghaavahu | aap haath dhai mohi bachaavahu |
Destroy all my enemies and giving me Your hand, emancipate me.
ਸੁਖੀ ਬਸੈ ਮੋਰੋ ਪਰਿਵਾਰਾ ॥ ਸੇਵਕ ਸਿੱਖਯ ਸਭੈ ਕਰਤਾਰਾ ॥੩੭੮॥
सुखी बसै मोरो परिवारा ॥ सेवक सि्खय सभै करतारा ॥३७८॥
sukhee basai moro parivaaraa | saevak skh sabhai karathaaraa |2|378|
O creator! may my whole family, all my followers (the Sikhs) and servants live in peace.(2)(378)
ਮੋ ਰੱਛਾ ਨਿਜੁ ਕਰ ਦੈ ਕਰਿਯੈ ॥ ਸਭ ਬੈਰਿਨ ਕੌ ਆਜ ਸੰਘਰਿਯੈ ॥
मो ्रछा निजु कर दै करियै ॥ सभ बैरिन कौ आज संघरियै ॥
mo raashaa nij kar dhai kariyai | sabh bairin ko aaj sanghariyai |
Protect me by giving Your hand and smite all my enemies to-day.
ਪੂਰਨ ਹੋਇ ਹਮਾਰੀ ਆਸਾ ॥ ਤੋਰਿ ਭਜਨ ਕੀ ਰਹੈ ਪਿਯਾਸਾ ॥੩੭੯॥
पूरन होइ हमारी आसा ॥ तोरि भजन की रहै पियासा ॥३७९॥
pooooran hoe hamaaree aasaa | thor bhajan kee rehai piyaasaa |3|379|
May my hope be fulfilled and my thirst for your devotional love abide with me!(3)(379)
ਤੁਮਹਿ ਛਾਡਿ ਕੋਈ ਅਵਰ ਨ ਧਯਾਊਂ ॥ ਜੋ ਬਰ ਚਹੋਂ ਸੁ ਤੁਮਤੇ ਪਾਊਂ ॥
तुमहि छाडि कोई अवर न धयाऊं ॥ जो बर चहों सु तुमते पाऊं ॥
thumehi shaadd koee avar n dhayaaoo | jo bar cheho s thum thae paaoo |
Forsaking you, I will not meditate on anyone else save You. Whatever boon I crave, I long to obtain only from you.
ਸੇਵਕ ਸਿੱਖਯ ਹਮਾਰੇ ਤਾਰਿਯਹਿ ॥ ਚੁਨ ਚੁਨ ਸ਼ੱਤ੍ਰੁ ਹਮਾਰੇ ਮਾਰਿਯਹਿ ॥੩੮੦॥
सेवक सि्खय हमारे तारियहि ॥ चुन चुन श्त्रु हमारे मारियहि ॥३८०॥
saevak skh hamaarae thaariyehi | chun chun shaathr hamaarae maariyehi |4| 380|
Liberate all my servants and my Sikhs. Picking each of my enemies, annihilate them.(4)(380)
ਆਪੁ ਹਾਥ ਦੈ ਮੁਝੈ ਉਬਰਿਯੈ ॥ ਮਰਨ ਕਾਲ ਤ੍ਰਾਸ ਨਿਵਰਿਯੈ ॥
आपु हाथ दै मुझै उबरियै ॥ मरन काल त्रास निवरियै ॥
aap haath dhai mujhai oubariyai | maran kaal thraas nivariyai |
Emancipate me by giving Your hand and remove the fear of the Death Time from me.
ਹੂਜੋ ਸਦਾ ਹਮਾਰੇ ਪੱਛਾ ॥ ਸ੍ਰੀ ਅਸਿਧੁਜ ਜੂ ਕਰਿਯਹੁ ਰੱਛਾ ॥੩੮੧॥
हूजो सदा हमारे प्छा ॥ स्री असिधुज जू करियहु ्रछा ॥३८१॥
hoojo sadhaa hamaarae paashaa | sree asidhuj joo kariyahu raashaa |5| 381|
Remain always on my back. Protect me, a graceful (Lord) with sword on Your Banner!(5)(381)
ਰਾਖਿ ਲੇਹੁ ਮੁਹਿ ਰਾਖਨਹਾਰੇ ॥ ਸਾਹਿਬ ਸੰਤ ਸਹਾਇ ਪਿਯਾਰੇ ॥
राखि लेहु मुहि राखनहारे ॥ साहिब संत सहाइ पियारे ॥
raakh laehu muhi raakhanehaarae | saahib santh sehaae piyaarae |
O Protector, protect me. You are the beloved supporter of Your saints, a Master!
ਦੀਨਬੰਧੁ ਦੁਸ਼ਟਨ ਕੇ ਹੰਤਾ ॥ ਤੁਮਹੋ ਪੁਰੀ ਚਤੁਰਦਸ ਕੰਤਾ ॥੩੮੨॥
दीनबंधु दुशटन के हंता ॥ तुमहो पुरी चतुरदस कंता ॥३८२॥
dheen bandh dhusattan kae hanthaa | thum ho puree chathuradhas kanthaa |6| 382|
You are Friend to the poor and Destroyer of the tyrants. You are the Lord of the fourteen worlds.(6)(382)
ਕਾਲ ਪਾਇ ਬ੍ਰਹਮਾ ਬਪੁ ਧਰਾ ॥ ਕਾਲ ਪਾਇ ਸ਼ਿਵਜੂ ਅਵਤਰਾ ॥
काल पाइ ब्रहमा बपु धरा ॥ काल पाइ शिवजू अवतरा ॥
kaal paae brehamaa bap dharaa | kaal paae shiv joo avatharaa |
In the course of Time, Brahma took birth. When the Time ordained, Shiva was incarnated.
ਕਾਲ ਪਾਇ ਕਰਿ ਬਿਸ਼ਨ ਪ੍ਰਕਾਸ਼ਾ ॥ ਸਕਲ ਕਾਲ ਕਾ ਕੀਯਾ ਤਮਾਸ਼ਾ ॥੩੮੩॥
काल पाइ करि बिशन प्रकाशा ॥ सकल काल का कीया तमाशा ॥३८३॥
kaal paae kar bisan prakaasaa | sakal kaal kaa keeaa thamaasaa |7| 383|
When the Time came, Vishnu appeared. You have enacted a play of all the ages and the times.(7)(383)
ਜਵਨ ਕਾਲ ਜੋਗੀ ਸ਼ਿਵ ਕੀਯੋ ॥ ਬੇਦ ਰਾਜ ਬ੍ਰਹਮਾ ਜੂ ਥੀਯੋ ॥
जवन काल जोगी शिव कीयो ॥ बेद राज ब्रहमा जू थीयो ॥
javan kaal jogee siv keeou | baedh raaj brehamaa joo theeou |
The Universal Destroyer who made Shiva a Yogi and Brahma as the main protagonist of the Vedas.
ਜਵਨ ਕਾਲ ਸਭ ਲੋਕ ਸਵਾਰਾ ॥ ਨਮਸ਼ਕਾਰ ਹੈ ਤਾਹਿ ਹਮਾਰਾ ॥੩੮੪॥
जवन काल सभ लोक सवारा ॥ नमशकार है ताहि हमारा ॥३८४॥
javan kaal sabh lok savaaraa | namasakaar hai thaahi hamaaraa | 8|384|
The same Supreme Power who accomplished all the worlds, I salute Him alone.(8)(384)
ਜਵਨ ਕਾਲ ਸਭ ਜਗਤ ਬਨਾਯੋ ॥ ਦੇਵ ਦੈਤ ਜੱਛਨ ਉਪਜਾਯੋ ॥
जवन काल सभ जगत बनायो ॥ देव दैत ज्छन उपजायो ॥
javan kaal sabh jagath banaayo | dhaev dhaith jaashan oupajaayo |
The Supreme Being who made the whole world and created gods, demons and yakshas.
ਆਦਿ ਅੰਤਿ ਏਕੈ ਅਵਤਾਰਾ ॥ ਸੋਈ ਗੁਰੂ ਸਮਝਿਯਹੁ ਹਮਾਰਾ ॥੩੮੫॥
आदि अंति एकै अवतारा ॥ सोई गुरू समझियहु हमारा ॥३८५॥
aadh anth eaekai avathaaraa | soee guroo samajhiyahu hamaaraa |9| 385|
He alone is God incarnate from the Beginning to the End. He alone should be deemed as our Guru.(9)(385)
ਨਮਸ਼ਕਾਰ ਤਿਸ ਹੀ ਕੋ ਹਮਾਰੀ ॥ ਸਕਲ ਪ੍ਰਜਾ ਜਿਨ ਆਪ ਸਵਾਰੀ ॥
नमशकार तिस ही को हमारी ॥ सकल प्रजा जिन आप सवारी ॥
namasakaar this hee ko hamaaree | sakal prajaa jin aap savaaree |
I pay my obeisance to Him alone. Who has Himself adorned the whole populace (or all His subjects).
ਸਿਵਕਨ ਕੋ ਸਵਗੁਨ ਸੁਖ ਦੀਯੋ ॥ ਸ਼ੱਤ੍ਰੁਨ ਕੋ ਪਲ ਮੋ ਬਧ ਕੀਯੋ ॥੩੮੬॥
सिवकन को सवगुन सुख दीयो ॥ श्त्रुन को पल मो बध कीयो ॥३८६॥
sivakan ko savagun sukh dheeyo | saathrun ko pal mo badh keeyo |10| 386|
O Death of the death! You have bestowed your devotees with auspicious attributes and comforts and have exterminated the enemies instantly. (1O)(386)
ਘਟ ਘਟ ਕੇ ਅੰਤਰ ਕੀ ਜਾਨਤ ॥ ਭਲੇ ਬੁਰੇ ਕੀ ਪੀਰ ਪਛਾਨਤ ॥
घट घट के अंतर की जानत ॥ भले बुरे की पीर पछानत ॥
ghatt ghatt kae anthar kee jaanath | bhalae burae kee peer pashaanath |
O God! You know the inner layers of each heart and recognize the sufferings of the good and the bad.
ਚੀਟੀ ਤੇ ਕੁੰਚਰ ਅਸਥੂਲਾ ॥ ਸਭ ਪਰ ਕ੍ਰਿਪਾ ਦ੍ਰਿਸ਼ਟਿ ਕਰਿ ਫੂਲਾ ॥੩੮੭॥
चीटी ते कुंचर असथूला ॥ सभ पर क्रिपा द्रिशटि करि फूला ॥३८७॥
cheettee thae kanuchar asathoolaa | sabh par kripaa dhrisatt kar foolaa |11| 387|
From a diminutive ant to a gigantic elephant, you cast your humane eyes on all and are pleased.(11)(387)
ਸੰਤਨ ਦੁਖ ਪਾਏ ਤੇ ਦੁਖੀ ॥ ਸੁਖ ਪਾਏ ਸਾਧਨ ਕੇ ਸੁਖੀ ॥
संतन दुख पाए ते दुखी ॥ सुख पाए साधन के सुखी ॥
santhan dhukh paaeae thae dhukhee | sukh paaeae saadhun kae sukhee |
When the saints undergo pain, you are pained, when the saints are happy, you are happy.
ਏਕ ਏਕ ਕੀ ਪੀਰ ਪਛਾਨੈ ॥ ਘਟ ਘਟ ਕੇ ਪਟ ਪਟ ਕੀ ਜਾਨੈ ॥੩੮੮॥
एक एक की पीर पछानै ॥ घट घट के पट पट की जानै ॥३८८॥
eaek eaek kee peer pashaanai | ghatt ghatt kae patt patt kee jaanai |12| 388|
You recognize everyone's suffering and know the secrets of all hearts.(12)(388)
ਜਬ ਉਦਕਰਖ ਕਰਾ ਕਰਤਾਰਾ ॥ ਪ੍ਰਜਾ ਧਰਤ ਤਬ ਦੇਹ ਅਪਾਰਾ ॥
जब उदकरख करा करतारा ॥ प्रजा धरत तब देह अपारा ॥
jab oudhakarakh karaa karathaaraa | prajaa dharath thab dhaeh apaaraa |
O Creator! when You expand, Your creatures assume innumerable shapes.
ਜਬ ਆਕਰਖ ਕਰਤ ਹੋ ਕਬਹੂੰ ॥ ਤੁਮ ਮੈ ਮਿਲਤ ਦੇਹ ਧਰ ਸਭਹੂੰ ॥੩੮੯॥
जब आकरख करत हो कबहूं ॥ तुम मै मिलत देह धर सभहूं ॥३८९॥
jab aakarakh karath ho kabehoon | thum mai milath dhaeh dhar sabhehoon |13| 389|
Whenever You allure, then all the bodies are absorbed in You.(13)(389)
ਜੇਤੇ ਬਦਨ ਸ੍ਰਿਸ਼ਟਿ ਸਭ ਧਾਰੈ ॥ ਆਪੁ ਆਪੁਨੀ ਬੂਝਿ ਉਚਾਰੈ ॥
जेते बदन स्रिशटि सभ धारै ॥ आपु आपुनी बूझि उचारै ॥
jaethae badhan srisatt sabh dhaarai | aap aapunee boojh ouchaarai |
All the bodies created in the universe, have uttered You according to their judgement.
ਤੁਮ ਸਭ ਹੀ ਤੇ ਰਹਤ ਨਿਰਾਲਮ ॥ ਜਾਨਤ ਬੇਦ ਭੇਦ ਅਰੁ ਆਲਮ ॥੩੯੦॥
तुम सभ ही ते रहत निरालम ॥ जानत बेद भेद अरु आलम ॥३९०॥
thum sabh hee thae rehath niraalam | jaanath baedh bhaedh ar aalam |14| 390|
You remain aloof from all. You know the mystery of the Vedas and of the world.(14)(390)
ਨਿਰੰਕਾਰ ਨ੍ਰਿਬਿਕਾਰ ਨ੍ਰਿਲੰਭ ॥ ਆਦਿ ਅਨੀਲ ਅਨਾਦਿ ਅਸੰਭ ॥
निरंकार न्रिबिकार न्रिल्मभ ॥ आदि अनील अनादि अस्मभ ॥
nirankaar nribikaar nrilanbh | aadh aneel anaadh asanbh |
You are formless, unchangeable, uncontained, primeval, stainless, beginningless and birthless.
ਤਾਕਾ ਮੂੜ੍ਹ ਉਚਾਰਤ ਭੇਦਾ ॥ ਜਾਕੋ ਭੇਵ ਨ ਪਾਵਤ ਬੇਦਾ ॥੩੯੧॥
ताका मूड़्ह उचारत भेदा ॥ जाको भेव न पावत बेदा ॥३९१॥
thaa kaa moorra ouchaarath bhaedhaa | jaa ko bhaev n paavath baedhaa |15| 391|
The fools describe His secret. His mystery was not unravelled even by the Vedas.(15)(391)
ਤਾਕੌ ਕਰਿ ਪਾਹਨ ਅਨੁਮਾਨਤ ॥ ਮਹਾਂ ਮੂੜ੍ਹ ਕਛੁ ਭੇਦ ਨ ਜਾਨਤ ॥
ताकौ करि पाहन अनुमानत ॥ महां मूड़्ह कछु भेद न जानत ॥
thaaka kar paahan anumaanath | mehaa moorra kash bhaedh n jaanath |
The great fools believe that He is contained in a stone but know not His secret.
ਮਹਾਂਦੇਵ ਕੌ ਕਹਤ ਸਦਾ ਸ਼ਿਵ ॥ ਨਿਰੰਕਾਰ ਕਾ ਚੀਨਤ ਨਹਿ ਭਿਵ ॥੩੯੨॥
महांदेव कौ कहत सदा शिव ॥ निरंकार का चीनत नहि भिव ॥३९२॥
mehaadhaev ka kehath sadhaa siv | nirankaar kaa cheenath nehi bhiv |16| 392|
They always call Shiva as the Gracious Lord (Eternal God) but do not understand the mystery of the Formless One.(16)(392)
ਆਪੁ ਆਪੁਨੀ ਬੁਧਿ ਹੈ ਜੇਤੀ ॥ ਬਰਨਤ ਭਿੰਨ ਭਿੰਨ ਤੁਹਿ ਤੇਤੀ ॥
आपु आपुनी बुधि है जेती ॥ बरनत भिंन भिंन तुहि तेती ॥
aap aapunee budh hai jaethee | baranath bhinn bhinn thuhi thaethee |
Each person, according to his understanding, gives Your description disparately.
ਤੁਮਰਾ ਲਖਾ ਨ ਜਾਇ ਪਸਾਰਾ ॥ ਕਿਹ ਬਿਧਿ ਸਜਾ ਪ੍ਰਥਮ ਸੰਸਾਰਾ ॥੩੯੩॥
तुमरा लखा न जाइ पसारा ॥ किह बिधि सजा प्रथम संसारा ॥३९३॥
thumaraa lakhaa n jaae pasaaraa | kih bidh sajaa pratham sansaaraa |17| 393|
Your expanse cannot be gauged. What was the technique which was used to create the Universe ?(17)(393)
ਏਕੈ ਰੂਪ ਅਨੂਪ ਸਰੂਪਾ ॥ ਰੰਕ ਭਯੋ ਰਾਵ ਕਹੀਂ ਭੂਪਾ ॥
एकै रूप अनूप सरूपा ॥ रंक भयो राव कहीं भूपा ॥
eaekai roop anoop saroopaa | rank bhayo raav kehee bhoopaa |
You have one form and an incomparable complexion; somewhere You are penniless, somewhere a lord and elsewhere a king.
ਅੰਡਜ ਜੇਰਜ ਸੇਤਜ ਕੀਨੀ ॥ ਉਤਭੁਜ ਖਾਨਿ ਬਹੁਰਿ ਰਚਿ ਦੀਨੀ ॥੩੯੪॥
अंडज जेरज सेतज कीनी ॥ उतभुज खानि बहुरि रचि दीनी ॥३९४॥
anddaj jaeraj saethaj keenee | outhabhuj khaan bahur rach dheenee |18| 394|
You made creatures born from eggs, wombs and perspiration (and filth) and produced a mfue of vegetables (and plants) afterwards.(18)(394)
ਕਹੂੰ ਫੂਲਿ ਰਾਜਾ ਹ੍ਵੈ ਬੈਠਾ ॥ ਕਹੂੰ ਸਿਮਟਿ ਭਯੋ ਸ਼ੰਕਰ ਇਕੈਠਾ ॥
कहूं फूलि राजा ह्वै बैठा ॥ कहूं सिमटि भयो शंकर इकैठा ॥
kehoon fool raajaa haiv baithaa | kehoon simatt bhayo sankar eikaithaa |
Somewhere You are sitting as Brahma (embellished on the lotus-flower), elsewhere being shrunk You are reposing as Shiva's idol.
ਸਗਰੀ ਸ੍ਰਿਸ਼ਟਿ ਦਿਖਾਇ ਅਚੰਭਵ ॥ ਆਦਿ ਜੁਗਾਦਿ ਸਰੂਪ ਸੁਯੰਭਵ ॥੩੯੫॥
सगरी स्रिशटि दिखाइ अच्मभव ॥ आदि जुगादि सरूप सुय्मभव ॥३९५॥
sagaree srisatt dhikhaae achanbhav | aadh jugaadh saroop suyanbhav |19| 395|
You have shown a miracle of the whole universe. You are the origin of the universe, are the beginning of the eons and are self-existent.(19)(395)
ਅਬ ਰੱਛਾ ਮੇਰੀ ਤੁਮ ਕਰੋ ॥ ਸਿੱਖਯ ਉਬਾਰਿ ਅਸਿੱਖਯ ਸੱਘਰੋ ॥
अब ्रछा मेरी तुम करो ॥ सि्खय उबारि असि्खय स्घरो ॥
ab raashaa maeree thum karo | skh oubaar askh sangharo |
Now You protect me, O God! Save my Sikhs (disciples) and destroy my enemies.
ਦੁਸ਼ਟ ਜਿਤੇ ਉਠਵਤ ਉਤਪਾਤਾ ॥ ਸਕਲ ਮਲੇਛ ਕਰੋ ਰਣ ਘਾਤਾ ॥੩੯੬॥
दुशट जिते उठवत उतपाता ॥ सकल मलेछ करो रण घाता ॥३९६॥
dhusatt jithae outhavath outhapaathaa | sakal malaesh karo ran ghaathaa |20| 396|
The tyrants who rise up in rebellion, exterminate those infidels in the battlefield.(20)(396)
ਜੇ ਅਸਿਧੁਜ ਤਵ ਸ਼ਰਨੀ ਪਰੇ ॥ ਤਿਨ ਕੇ ਦੁਸ਼ਟ ਦੁਖਿਤ ਹ੍ਵੈ ਮਰੇ ॥
जे असिधुज तव शरनी परे ॥ तिन के दुशट दुखित ह्वै मरे ॥
jae asidhuj thav saranee parae | thin kae dhusatt dhukhith haiv marae |
O God (whose banner has sword as a symbol) the enemies of those, who seek Your refuge, suffer, sorrowfully and die in misery.
ਪੁਰਖ ਜਵਨ ਪਗੁ ਪਰੇ ਤਿਹਾਰੇ ॥ ਤਿਨ ਕੇ ਤੁਮ ਸੰਕਟ ਸਭ ਟਾਰੇ ॥੩੯੭॥
पुरख जवन पगु परे तिहारे ॥ तिन के तुम संकट सभ टारे ॥३९७॥
purakh javan pag parae thihaarae | thin kae thum sankatt sabh ttaarae |21| 397|
Those who fall on Your feet, You remove all their calamities.(21)(397)
ਜੋ ਕਲਿ ਕੌ ਇਕ ਬਾਰ ਧਿਐਹੈ ॥ ਤਾ ਕੇ ਕਾਲ ਨਿਕਟਿ ਨਹਿ ਐਹੈ ॥
जो कलि कौ इक बार धिऐहै ॥ ता के काल निकटि नहि ऐहै ॥
jo kal ka eik baar dhiai hai | thaa kae kaal nikatt nehi aihai |
Those who meditate on You even once, Death does not approach them.
ਰੱਛਾ ਹੋਇ ਤਾਹਿ ਸਭ ਕਾਲਾ ॥ ਦੁਸ਼ਟ ਅਰਿਸ਼ਟ ਟਰੇ ਤਤਕਾਲਾ ॥੩੯੮॥
्रछा होइ ताहि सभ काला ॥ दुशट अरिशट टरे ततकाला ॥३९८॥
raashaa hoe thaahi sabh kaalaa | dhusatt arisatt ttarae thathakaalaa |22| 398|
They are harboured at all times and their enemies vanish and their obstacles are removed at once.(22)(398)
ਕ੍ਰਿਪਾ ਦ੍ਰਿਸ਼ਾਟਿ ਤਨ ਜਾਹਿ ਨਿਹਰਿਹੋ ॥ ਤਾਕੇ ਤਾਪ ਤਨਕ ਮਹਿ ਹਰਿਹੋ ॥
क्रिपा द्रिशाटि तन जाहि निहरिहो ॥ ताके ताप तनक महि हरिहो ॥
kripaa dhrisatt than jaahi nihariho | thaakae thaap thanak mo hariho |
O God ! The sufferings and agonies of those, whom you behold with a look of Grace, are removed instantaneously.
ਰਿੱਧਿ ਸਿੱਧਿ ਘਰ ਮੋਂ ਸਭ ਹੋਈ ॥ ਦੁਸ਼ਟ ਛਾਹ ਛ੍ਵੈ ਸਕੈ ਨ ਕੋਈ ॥੩੯੯॥
रि्धि सि्धि घर मों सभ होई ॥ दुशट छाह छ्वै सकै न कोई ॥३९९॥
ridh sidh ghar mo sabh hoee | dhusatt shaah shaiv sakai n koee |23| 399|
Their homes are blessed with all the temporal and spiritual powers and no enemy can touch even their shadows.(23)(399)
ਏਕ ਬਾਰ ਜਿਨ ਤੁਮੈਂ ਸੰਭਾਰਾ ॥ਕਾਲ ਫਾਸ ਤੇ ਤਾਹਿ ਉਬਾਰਾ ॥
एक बार जिन तुमैं स्मभारा ॥काल फास ते ताहि उबारा ॥
eaek baar jin thumai sanbhaaraa |kaal faas thae thaahi oubaaraa |
One who even once remember You, You liberate him from the noose of Death.
ਜਿਨ ਨਰ ਨਾਮ ਤਿਹਾਰੋ ਕਹਾ ॥ ਦਾਰਿਦ ਦੁਸ਼ਟ ਦੋਖ ਤੇ ਰਹਾ ॥੪੦੦॥
जिन नर नाम तिहारो कहा ॥ दारिद दुशट दोख ते रहा ॥४००॥
jin nar naam thihaaro kehaa | dhaaridh dhusatt dhokh thae rehaa |24| 400|
Any sentient being, who takes Your name, is released from poverty, enemies and sufferings.(24)(400)
ਖੜਗ ਕੇਤ ਮੈਂ ਸ਼ਰਨਿ ਤਿਹਾਰੀ ॥ ਆਪ ਹਾਥ ਦੈ ਲੇਹੁ ਉਬਾਰੀ ॥
खड़ग केत मैं शरनि तिहारी ॥ आप हाथ दै लेहु उबारी ॥
kharrag kaeth mai saran thihaaree | aap haath dhai laehu oubaaree |
O Immortal Being (with the sword on Your Banner)! I am under Your protection. Give me Your hand and save me.
ਸਰਬ ਠੌਰ ਮੋ ਹੋਹੁ ਸਹਾਈ ॥ ਦੁਸ਼ਟ ਦੋਖ ਤੇ ਲੇਹੁ ਬਚਾਈ ॥੪੦੧॥
सरब ठौर मो होहु सहाई ॥ दुशट दोख ते लेहु बचाई ॥४०१॥
sarab thaar mo hohu sehaaee | dhusatt dhokh thae laehu bachaaee |25| 401|
Stand by me everywhere and guard me against the tyrants and the evils.(25)(401)
ਕ੍ਰਿਪਾ ਕਰੀ ਹਮ ਪਰ ਜਗਮਾਤਾ ॥ ਗ੍ਰੰਥ ਕਰਾ ਪੂਰਨ ਸੁਭ ਰਾਤਾ ॥
क्रिपा करी हम पर जगमाता ॥ ग्रंथ करा पूरन सुभ राता ॥
kripaa karee ham par jagamaathaa | ganrath karaa pooran subh raathaa |
The Universal Mother (God) showed me compassion and I have completed this propitious Book.
ਕਿਲਬਿਖ ਸਕਲ ਦੇਹ ਕੋ ਹਰਤਾ ॥ ਦੁਸ਼ਟ ਦੋਖਿਯਨ ਕੋ ਛੈ ਕਰਤਾ ॥੪੦੨॥
किलबिख सकल देह को हरता ॥ दुशट दोखियन को छै करता ॥४०२॥
kilabikh sakal dhaeh ko harathaa | dhushatt dhokhiyan ko shai karathaa |26| 402|
She eradicates all sins and sorrows and exterminates the enemies and tyrants.(26)( 402)
ਸ੍ਰੀ ਅਸਿਧੁਜ ਜਬ ਭਏ ਦਯਾਲਾ ॥ ਪੂਰਨ ਕਰਾ ਗ੍ਰੰਥ ਤਤਕਾਲਾ ॥
स्री असिधुज जब भए दयाला ॥ पूरन करा ग्रंथ ततकाला ॥
sree asidhuj jab bheae dhayaalaa | pooran karaa granth thathakaalaa |
When God (with sword on His banner) became benign, this text was completed immediately.
ਮਨ ਬਾਂਛਤ ਫਲ ਪਾਵੈ ਸੋਈ ॥ ਦੂਖ ਨ ਤਿਸੈ ਬਿਆਪਤ ਕੋਈ ॥੪੦੩॥
मन बांछत फल पावै सोई ॥ दूख न तिसै बिआपत कोई ॥४०३॥
man baashath fal paavai soee | dhookh n thisai biaapath koee |27| 403|
Anyone who reads this Granth), he will get the desired reward. No misery will come to pass to him.(27)( 403)
Nit-Nem (literally "Daily Naam") is a collaboration of different banis that were designated to be read by Sikhs every day at different times of the day.Sikhs read nitnems at Gurdwaras. The Nit-Nem bani's usually include the Panj bania (5 bani's below) which are read daily by baptized Sikhs in the morning between 3:00 am and 6:00 am (this period is considered as Amrit Vela or the Ambrosial Hours) and Rehras Sahib in the evening 6pm and Kirtan Sohila at night 9pm
---
Bani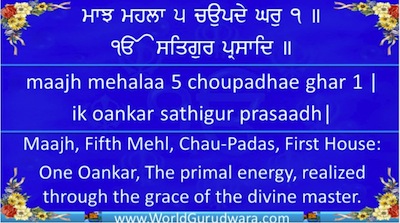 Shabad Hazare
Guru Gobind Singh ji describes his philosophy and inherent beliefs of Dharam and its perception. Speaking against mindless rituals, and beliefs in many Gods (as opposed to belief in the One), the ballads narrate the greatness of the Almighty.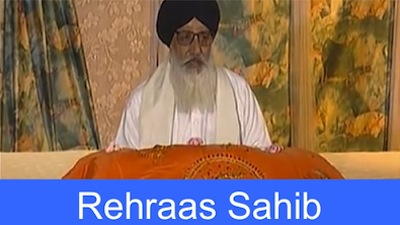 Rehras Sahib
Rehraas Sahib is collection of hymns of five different Gurus. The Rehras as recorded in the Guru Granth Sahib contains hymns of only Guru Nanakji, Guru Amardas ji, Guru Ramdas ji and Guru Arjan Dev ji. The compositions of Guru Gobind Singh ji were added in Rehras Sahib.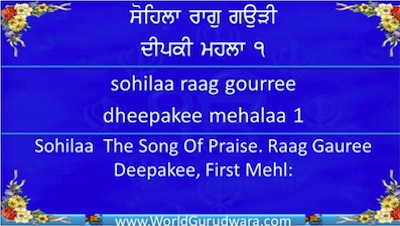 Kirtan Sohila
Three Gurus — Guru Nanak, Guru Ram Das and Guru Arjan – contributed five shabads on the pain of separation and celebrating the bliss of union. The first three Shabads were uttered by Guru Nanak, the fourth by Guru Ram Das and the fifth by Guru Arjan Dev. This is the night prayer said by all Sikhs before sleeping.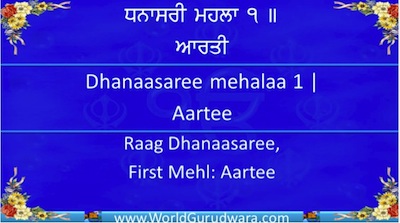 Aarti
This is a compiled Bani from Guru Granth Sahib Ji and Dasam Granth. Various parts are composed by Guru Nanak Dev Ji, Bhagat Kabir ji, Bhagat RaviDass Ji and Guru Gobind Singh Ji.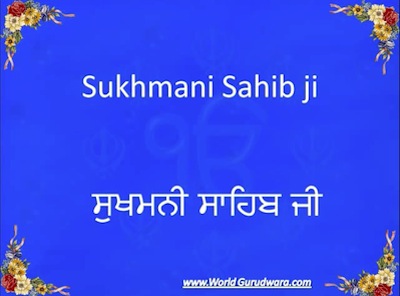 Sukhmani Sahib
Sukhmani literally means Peace in your mind. this Bani is believed to bring peace to one's mind and compoundly peace to the world. This set of 192 hymns were compiled by the fifth Sikh Guru, Guru Arjan Dev Ji. This is divided into 24 sections in the Sri Guru Granth Sahib ji on page 262. Each section, which is called an Ashtpadi(asht means 8), consists of 8 hymns per Ashtpadi.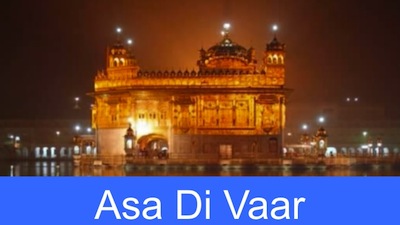 Asa Di Var
It is a collection of 24 pauris or stanzas by Guru Nanak Dev ji on page 462-475 in Sri Guru Granth Sahib ji. Guru Arjan Dev ji also added a few Sloks of Guru Angad Dev ji. These Sloks are tied together in a way that they relate to the same theme as highlighted in the pauri. Asa Di Var also contains a few shabads recited by Guru Ram Das ji.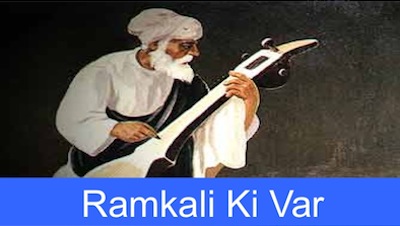 Ramkali Ki Vaar
Ramkali Ki Var, also known as Tikke di Var, is the joint composition of the Balvand and Satta. The Var comprises of eight pauns or stanzas, of unequal length, varying from seven to twenty-one lines.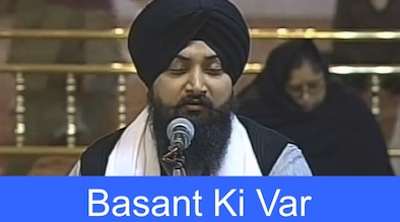 Basant Ki Var
Basant Ki Var, by Guru Arjan Dev, is the shortest of the twentytwo vars. Vars are heroic ballads included in the Guru Granth Sahib. Basant, is the Punjabi word for spring from which the musical measure the Var derives its title. Like Malhar (the raga of the rainy season) the Basant Ki Var is an ancient seasonal raga – the raga of springtime.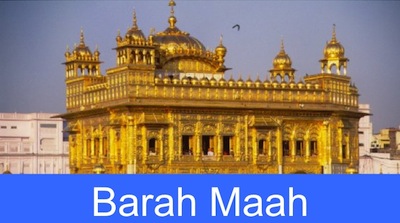 Barah Maah Maajh
It is a form of folk poetry in which the emotions and yearnings of the human heart are expressed in terms of the changing moods of Nature over the twelve months of the year. Guru Nanak Dev ji's Barah Maha is the oldest composition in this genre transforming into spirituality. This is followed by Guru Arjan's Barah Maha.
Dukh Bhanjani Sahib
It begins with the shabad "Dukh bhanjan tera naam meaning "The Destroyer of Suffering is Thy Name". It is a compilation of scripture which includes many shabads written by fifth Guru Arjun Dev ji during the illness and healing of his young son sixth Guru Hargobind ji.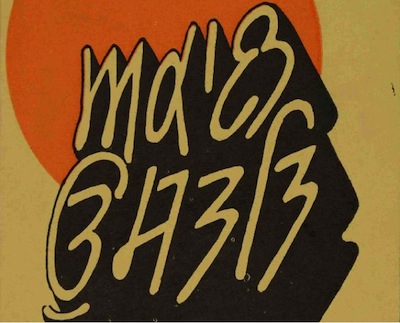 Akal Ustat
It is the second Bani in the Dasam Granth. This text spans from page 33 to page 94. It is composed of 271 verses, and is largely devotional in nature. 'Akal' translates to 'Immortal' and 'Ustat' translates to 'praise of'. The text describes the many forms of the Almighty in nature, and how mankind perceives this great entity.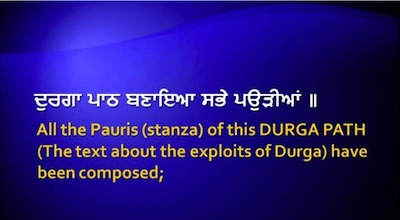 Chandi Ki Var
Chandi di Var also known as Var Sri Bhagauti Ji is a composition included in the 5th chapter of Dasam Granth. It is based on an episode from the Sanskrit work Markandeya Purana, and describes the conflict between the Gods and the Demons. The first part of the Var is known as the "Ardas", the opening Section of Sikh prayer which invokes the names of the Gurus.